Ashkan Mousavi is a multi-genre sound technician, music producer, singer and songwriter based in Tehran, Iran. He studied sound design atMFT Tehran and Audio Engineering at SAE Dubai. His earlier career started in his dark basement where he explored rock and metal music and then gradually gravitated towards electronic and atmospheric music. He has been working with various artists and different projects as audio engineer and music producer. He is also active as the main contributor of an educational blog called "Export" published exclusively on Deep House Tehran music magazine providing practitioners with knowledge and expertise about sound design and audio engineering.  
Export is a monthly articles all about music productions, Audio engineering and technology which i started to write since 2018, Honor to collaborating with "Deep House Tehran" for the best result.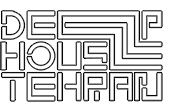 Deep house Tehran established in 2014 is the leading Iranian underground house and electronic music magazine with mixes,interviews,workshops and news including biography,music business,software and equipment and etc.
Peeleh is an independent record label based in Stockholm, Sweden aiming to empower experimental and innovative electronic and hip hop musicians.
Contact@ashkanmousavi.com